Home
›
Best Of
Best Of
My name is Ashley Kurtz and my fiancé's name is Kiel Eigen. We have been together over 5 years now, and engaged since April 28, 2018. We are going to be getting married November 2, 2019. We met through friends and after our first date we hit it off, even living an hour away from one another, we were inseparable. We dated for 4 years and our relationship quickly grew. When Kiel and I first began dating and I was told he was in a wheelchair, I didn't know what to expect. When we went on our first date, Kiel drove and to be honest I didn't have a clue at that moment how that was going to happen, if I'd need to help him get out of his car, the questions raced in my mind. When we got to the restaurant, I got out of his van and waited for him on the drivers side door, little did I know he was going to come down a ramp that deployed from the back passenger side. From that moment on, I had no doubts about Kiel- wheelchair or not, I knew I wanted to be apart of his life and I certainly wanted him apart of mine. Kiel is truly just such a special human being. He was injured playing football, during the first game of the season when he was just 14 years old. Kiel was always competitive in all sports he played, and he was an exceptional athlete. On September 12, 2006 Kiel collided face mask to face mask with another player, and instantly he knew something was wrong. He explains that moment to have felt like his entire lower body felt like it was asleep, like when your foot falls asleep. He couldn't move but was fully aware of what was happening. Even so, with such a tragedy occurring Kiel was concerned about getting home by Friday to see a new movie that was coming out, he didn't fully understand the severity of his injury. He says that he thought he was going to get a neck brace and be sent home. He didn't know he wouldn't be able to walk, or that his life was about to be completely different. He was life flighted off the football field and taken to an ICU in Philadelphia for 13 days. After his time in the ICU, he spent time at Allied Services inpatient rehab, and then went on to do outpatient. Throughout his entire ordeal he kept up with school, wasn't held back and graduated on time with his class. Kiel now goes back to Allied Rehab to talk to newly injured patients and to show them life still goes on, and it's all about how you look at the situation. Some days aren't perfect even still for him but you'd never know it based off of his attitude. He's always positive and pushing to make a difference in people's lives. He works full time at Quantum Rehab, a wheelchair manufacturer where he helps with the technology and advancements for wheelchair users. We have gone to advocate at the hill in Washington to allow for better accessibility throughout this country. He just never stops making a difference. He has opened my eyes to so much. Kiel has taught me to be selfless and to always live life to the fullest, as you never know what tomorrow will bring. Our relationship isn't perfect but together we are perfect. There is good in everyday, and I'm grateful for him- wheelchair or not. We bought our first home this year, and are proceeding to get ready for our upcoming wedding. Kiel proposed to be at a winery on April 28, 2018 in front of people we both love. It was a perfect day and I still can't believe almost a year layer we are going to be married this year! Kiel always says that the only disability in life is a bad attitude!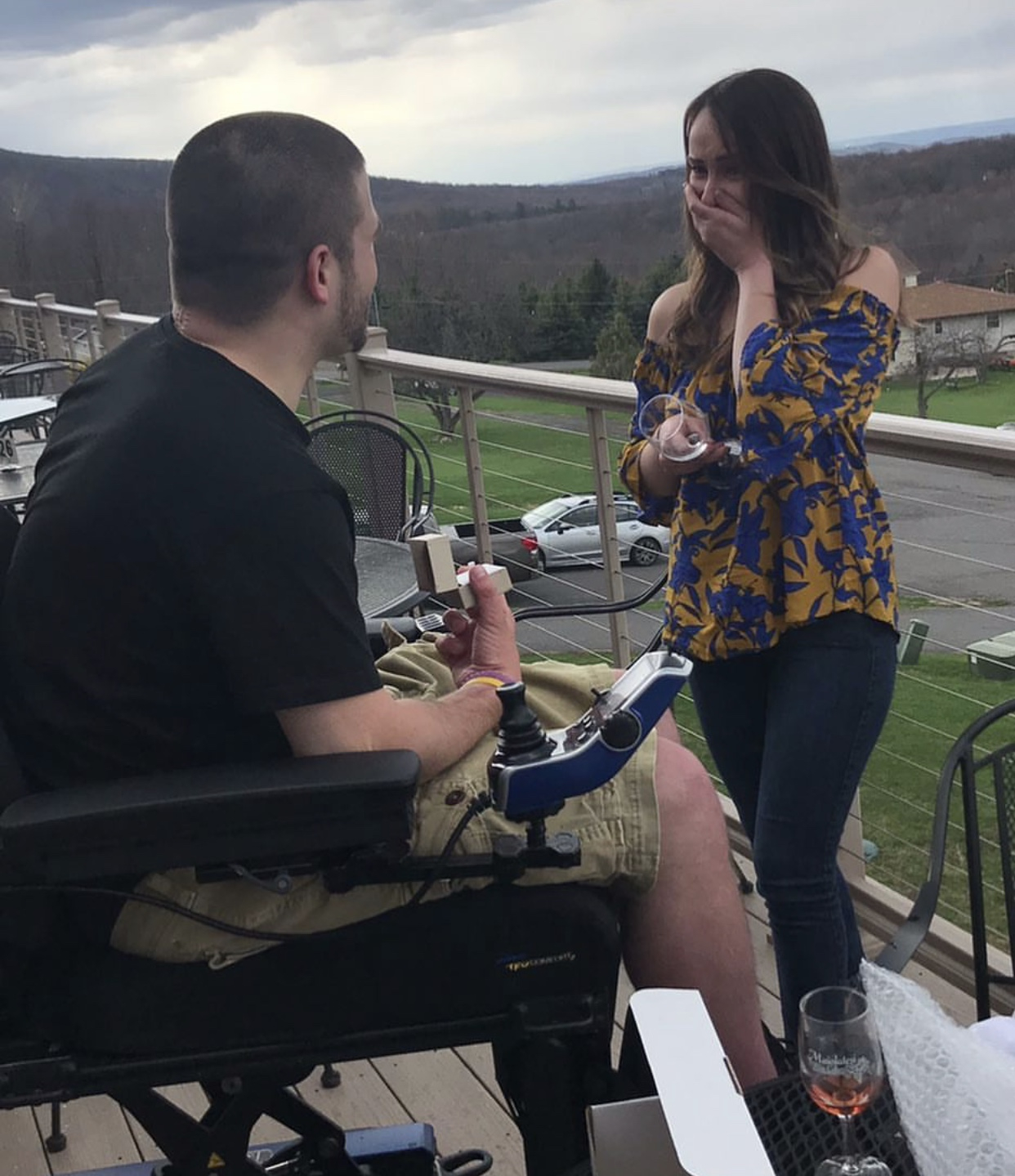 Taking care of your bones is something people do without much thought. The skeletal system (bones) are what gives our bodies structure and support. Without bones, we would not have any framework for our bodies, making us just blobs of tissue.
After a spinal cord injury, protection of our bones and what they do becomes more important. Several of the secondary complications of spinal cord injury have to do with protecting bones from the inside and outside of our bodies.
Bones need to be strong enough to support the body and body weight. Making your bones work keeps them healthy and strong. After a spinal cord injury, you might have difficulty making your bones work to support your body to be upright. When you do not exercise, or use put tension on your bones through movement, bone structure is affected due to loss of minerals.
The strength of bones is measured by bone density. Minerals in the bones make them strong. Bones of normal strength have a normal bone density. If you could look at your bones, you would see a smooth surface. Bones that are affected by mineral loss have tiny little holes where the mineral has been depleted. Bones that have less density are more prone to fracture or breaking.
Some loss of bone minerals results in osteopenia which is a diagnosis or disease of smaller amounts of loss of minerals in the bone. It you could see your bones under a microscope, in osteopenia, they would look like a slightly moth-eaten sweater in appearance with random tiny holes throughout. When a great deal of minerals has left the bone, a disease is diagnosed called osteoporosis, which is a significant loss of density. Some call the appearance of osteoporosis in the bones as looking like swiss cheese. Many holes are present and often larger in osteoporosis.
People usually think about osteoporosis when the see older women with misshapen, bent spines. This is due to factors such as age, genetic predisposition and hormonal changes from menopause. Men can have this same issue, but it is typically seen at a later age as male hormonal changes occur more slowly over time than the significant hormonal changes of menopause.
Another group that can have bone density issues are those with spinal cord injury due to the lack of putting tension on the bones, especially through the long bones of the legs and arms. Individuals with higher level injuries have a higher incidence of bone density issues than people with lower level injury but everyone with SCI is at risk for low bone density.
Bone density testing should be performed at least one time per year for individuals with spinal cord injury. This is a relatively easy test as you are required to lay on a special exam table for a short period of time while a wand travels above your body, measuring the density of your bones in the lumbar spine and hip. Sometimes, the wrist is also measured depending on your level of injury and other risk factors.
The bone density test takes about 15 minutes. There is no IV or anything that touches your body. You do need to wear comfortable clothes without metal such as zippers, as the metal will cause the testing measurements to splay as opposed to consolidating at the measurement site.
The results of the test will indicate your bone density in the selected areas, lumbar spine, hip and wrist. These areas are chosen as they are the most vulnerable spots in your body for bone fractures. The results are most commonly reported in 'T' scores. A T score is a statistical measurement of how far an assessment is from a collected average. In other words, your bone density T score is how different your bone density is from a random group of people your age and gender. A score of T -1 and above indicates you have normal bone density. If your results are between T -1.1 and T -2.4 you have osteopenia. Results of T -2.5 and below indicates osteoporosis. Sometimes scores are provided by a Z score which is a different calculation and diagnostic parameters.
Treatment for bone density include medication. It can take time to rebuild your bone density through medication. Therefore, it is to your benefit to keep a yearly track of your bone density as this is another example of how early treatment is much easier to correct bone density than attempting to treat a more severe case for a much longer period of time.
There are also treatments to help you maintain your bone density. Your healthcare provider may assess your vitamin D level through a blood test. The benefits of Vitamin D have received a lot of press over that last 10-20 years because it has been extensively studied. It provides a variety of functions in the body from regulating metabolism to helping transport calcium and phosphorus into the bones. The body makes its own Vitamin D through sunshine on our skin. In today's society, most of us work indoors and don't get much sunshine on our face and hands. If we do have time to enjoy the out of doors, it is necessary to put on sunscreen and wear protective clothing which does not allow the vitamin D exchange.
Be sure you have an assessment of your Vitamin D prior to taking this supplement. Vitamins are divided into two basic groups. Those that are water soluble, in other words, if you take too much of them, any overage will be removed by the kidneys and excreted with your urine. There are four vitamins that are in the group of fat soluble. These are Vitamins A, D, E, and K. These vitamins are stored in your body fat. Taking too much of these vitamins can lead to side effects and overdosing.
Therefore, a blood test will indicate your need for Vitamin D supplementation. Vitamin D can be purchased over the counter or at a higher prescription strength depending on your needs. Be sure to inform your healthcare provider if you take any over the counter vitamins or supplements as these can affect other medications and adversely affect your health.
Another treatment that will help maintain your bone density is activity. If you are able, you can apply pressure to your bones by performing range of motion exercises using therabands (elastic strips) or even a towel for resistance when moving your extremities. Moving parts of your body independently or manually will cause your muscles to move and thereby pull the tendons where they attach to your bones. This provides the tension needed for bones to help maintain their density.
A standing frame can be used to allow your body to be placed in an upright position which might also add tension to the bones. If you have a standing frame that allows your arms to move your legs, further benefits will be gained. This therapy is done for one hour a day. You will need to start slowly and work up over time. You do not need to move quickly. Just moving will create a benefit.
Advanced therapy of functional electrical stimulation has demonstrated a positive effect on bone density. Prior to doing any activity, you will want to have an assessment of your bone density as application of weight or resistance with a low bone density can lead to a fracture (breaking) of your bone.
Careful handling of your body is always essential. Rough movement or even moving when distracted can cause injury to anyone. With a SCI or paralysis, your body will react to injury, even if you do not feel it. Moving your body carefully can avoid trauma such as bruising or even fractures (breaking) to bones with or without low bone density.
If you do have a bone fracture, medication might be provided or your might require surgery for a repair. To repair a bone fracture, a plate might be placed along your bone with screws to fasten the plate both above and below the fracture. If your bone density is poor such as with osteoporosis, the screws might not be able to be placed as the bone will not tolerate the stress of the screw. Early treatment of a bone density problem will help this issue.
Ironically, a secondary complication of spinal cord injury can actually help bone density issues. Spasticity is an involuntary contraction of a muscle. Muscles are attached to bone by tendons. Each time the muscle spasms, there is a pull on the bone by the tendon. This action helps strengthen your bones. This is not to say that spasticity should not be treated as it can be painful and disruptive to your everyday activity. Spasticity can lead to a variety of negative side effects. However, if your spasticity is not too severe and not painful, you might want to let it occur to keep your bones healthy. Finding the 'sweet spot' between a positive effect of spasticity versus many of the negative effects is often a challenge and might not be to your benefit in the long run.
The key to maintaining your bone density is the annual bone density test. The results might be in the 'normal' range for years until suddenly it is low. Catching a lower bone density when it starts is much easier to treat and can avoid long term problems leading to life style changes in the future. Waiting until a bone fracture occurs could indicate problems with your bones throughout your body. Be kind and love your bones by having a yearly bone density assessment. Nurse Linda
Pediatric Consideration: Younger children need bone density assessments as well especially after puberty when the adult bones are established. Be sure to ask your healthcare professional when it would be the right time for your child to start their first assessment. Results for children will typically be reported in the Z score format which matches children for height and weight as opposed to age. Interpretation of the Z score result will be provided to you.
You can begin activity therapies to help protect your child through range of motion with resistance, careful handling of all four extremities, functional electrical simulation and standing. Most insurances will cover a standing frame, but your healthcare professional will have to specifically order one for your child. This will not automatically happen. For extra benefits, ask for a standing frame with gliding action if your child can perform this activity. Your physical therapist can be instrumental in making this assessment for you and your healthcare provider.
Since young bones are still maturing, spasticity can have a negative effect of over pulling on one side and under pulling on the other side of the bone. This can lead to malformation of the bone(s). It is important to have treatment of spasticity to protect the development and formations of young bones.