Home
›
Best Of
Best Of
Hi friends! 

Quick Question...

After you sustained an SCI, what sort of housing did you transition into? Were you able to stay in your current home or did you have to sell/ rent a new space? 
I am curious about this because my partner and I did have to sell our townhome of 4 flights of stairs and now rent a ground floor condo. We really lucked out with this one as it was the ONLY rental we found in an area we really like but also it is an older building that was originally build for Veterans. Meaning, the door frames are all wider than usual and its more of an open concept home. 
Things we had to think about when we were looking for a rental included doors frame width, height of all counters, bathroom space, was the place big enough to turn around in a chair, were there any lips or steps going to the patio from the door, could Dan fit under the bathroom sink (he still can't), could he reach the cupboards, etc etc. 
These are things that we would have to explain to the owners of the building. One even asked me if I could carry him up 3 stairs- lol! Nope, cannot. He is in a chair
Please share some funny stories if you have any regarding rentals or housing, they are always welcome and maybe we can construct a post to educate the public around housing. 
Thanks a bunch!
Elena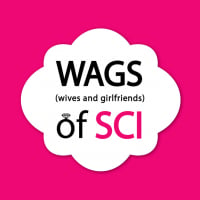 WAGSofSCI
Hi, everyone! I spent this past weekend with one of my best friends who I hadn't seen in a while, and he happens to be in the musical theatre community. I was talking with him about how I feel like people with disabilities are still struggling to be cast in film and television. He mentioned to me that the theatre community is pretty ahead of the curve with this, casting people with disabilities not only in roles of characters who have disabilities, but even in roles of those who do not. This was really exciting to hear and not something that I realized, since I don't pay very close attention to theatre. Just thought I'd share!
BrookeU
Hey everyone, I am not sure if this topic has been talked about yet or not. But I am curious as to where all of you live and how you like it. My girlfriend and I live in Orange County, California. We both love it here, but it is outrageously expensive. I can't really see myself living outside of California but I most likely will not be able to afford living here in the future. I want to have a back up plan and have other options. 
My question is what is an affordable state that has weather as close to California as possible. One of my biggest reasons for wanting to stay is my family, the accessibility and weather. The weather here is perfect for a spinal cord injury. I do not want to live anywhere that snows. I prefer the warm weather over cold. Trying to think about my future and where I will be able to afford to live. What states are warm, have good accessibility and are affordable? 
Zcollie