Home
›
Best Of
COVID-19 Concerns
Post your questions or concerns about COVID-19 on Reeve Connect for our Information Specialists and experts to address
here
.
Best Of
What follows is a personal narrative/blog of two hellish months of health problems and what I learned from this ordeal. If you want to talk about it, I'm here to talk. Allen Rucker

For one brief moment in the not-too-distant past – one bright, shining moment – I was convinced that I had this paralysis thing figured out. The paralysis itself was here to stay, of course, but I thought I had wrestled to the ground all the nasty ramifications of this scourge. I was just wrapping up an interminable regimen of wound care treatments and would soon be wound free. I had the right low air lost mattress to sleep on, no UTI's or nasty spills or chronic shoulder pain or prolonged spasms in ages, and all those late-night dashes to the ER were a hazy memory. All I had to do now was minimal routine maintenance -- i.e., don't get tipsy, fall over, and break my neck -- and I'd be flying.
This was magical thinking. I had lulled myself, if even for just a moment, into a dangerous state of complacency.
Soon a new wound appeared on the outside of my small right toe, which was irritating, for sure, but nothing to fret over. Nineteen more trips to the wound doctor would take care of that. Then one Tuesday, a virulent new infection invaded the toe, seemingly out of the blue, and within hours I was back in surgery, this time to amputate that toe. The bacteria had entered the bone tissue, a first step toward the dreaded sepsis. I was lucky they had caught it so quickly.
Then the real trouble began. A CT scan of the same leg revealed a dangerous narrowing or stenosis of my femoral artery – the big one carrying blood to the whole leg – leading to a near total obstruction of blood flow. The vascular surgeon said it in clear English: "You are a prime candidate for losing your leg…" Before he could do anything about it, I had two weeks to ponder how I had ended up here.
It didn't take a medical degree to realize the many missteps that had led up to this crisis. When I left the hospital after first becoming paralyzed 23 years before, no one sat me down and told be the brutal facts about living with paralysis. No doctor, nurse, or therapist explained the constant threat of problem wounds in my lower body. Nor did they mention the inevitability of contracture, or the permanent shortening of the knee muscles, meaning your knee is forever bent. Nor did anyone hammer home maybe the most vital lesson: unobstructed blood flow to all paralyzed regions is the greatest safeguard against wounds that won't heal and infections invading your body.
Why did this happen? Why wasn't I exercising my legs to avoid contracture or stimulate circulation from day one? Why wasn't I getting CT scans to measure blood flow in my legs every six months? Was I dealing with incompetent doctors or second-rate medical facilities? Hardly. All of this took place at Cedars-Sinai Medical Center in Los Angeles, ranked by US News as the 8th best hospital in the country. The problem was not competence. It was communication.
If my internist had consulted with the neurologist who had consulted with the vascular specialist who had consulted with the infectious disease specialist who had consulted with a wound care specialist on a daily basis, in one long, unbroken conversation, even when no crisis was apparent, then none of this would have probably happened. Easy to see now; not easy to see over two plus decades.
No doctor, however skilled or experienced or caring, is thinking about your health full-time. Few internists are experts in foreseeing the problems of patients with paralysis. Specialists in, say, vascular surgery or infectious diseases don't spend much time thinking about orthopedic problems like contracture or issues of wound care. In fact, 23 years ago, wound care itself was small potatoes, relegated to nurses who picked it up willy-nilly, without formal training, and never the concern of plastic surgeons or other skin specialists who are very much involved today.
The best sources of what might happen to you and ways of dealing with it? Other people with paralysis. The best advice, and greatest amount of solace, I received about possibly losing my leg came from a friend who had in fact lost his leg under similar circumstances. He was living proof that there was life after amputation.
In the end, a procedure called an angioplasty worked and I didn't lose my leg. That was a joyous day, believe me.
Even in the best of current circumstances in the US – I can't speak for Finland or Norway -- you have only one principal medical adviser you can count on at all times, and that adviser is YOU. Or in my case, me. I knew experts at Johns Hopkins in dealing with contracture two years into my paralysis but hesitated to have surgery on my knees because I would be laid up for months and had no one pushing the issue. I've deluded myself for years in thinking I had wound care down but still struggle nightly with eliminating pressure. Of course, I never heard the words "arterial stenosis" until a month ago, but if I had done more research or asked more questions, I probably would have.
All of that is water under the bridge now. Fear of losing a leg is a great way of focusing the mind. Hopefully it is not too late to amend my own errors in self-treatment and to learn to anticipate problems long before they are manifest. Living with paralysis demands a boatload of self-discipline and mindfulness that I have yet to achieve. It is now at the top of my to-do list.
Crucker
Please share with us some of your more interesting life hacks
garrisonredd
Many articles contain advice to get 'proper nutrition' or to 'eat healthy'. A lot of people wonder exactly what that means. Even more are lost in the huge amount of information about what to eat and especially what not to eat. The information keeps adding and changing. With the Thanksgiving Holiday just over, there was a lot of talk about eating whatever and as much as you want because it is a special day. When did you ever hear that before? In the past, the message has been to look out for extra calories.
After spinal cord injury or paralysis, even movement disorder diseases, it can be a challenge to maintain a healthy diet and weight. Getting to the store can be difficult. Once you get the food home, preparation and cooking are a challenge. Clean up can be time consuming. Oh, it is easier just to eat take out which is high in calorie and expense. But then what about the actual eating? You just might not have the hunger sensation. Or you could find food to be too comforting.
Yes, it is a challenge but there are some helps that can assist you in conquering food and food consumption. First, become familiar with healthy eating. There is a wonderful website called My Plate.This is one of those expert reviewed government sponsored websites that few people know about but contains valuable and correct information. You can keep a confidential tracking of your dietary progress. There are all sorts of tips and information to help keep you on track. Online, there are many sites that either cost money or don't have quite the right information. This site has been vetted by the top nutritionist in the United States.
On My Plate, there is a sketch of what your plate should look like. The biggest part of your diet should be vegetables followed by grains (whole is better), protein, fruits and dairy. Here is a copy of a picture of the My Plate suggestions by the United States Department of Agriculture:

If you have trouble eating this much food at one time, this schedule from the My Plate site can help:
These and other educational information and graphic pictorials are free to use and copy from the My Plate site. The site has additional helpful information that will help you make the choices to convert to a healthy diet. Taking steps to get there will result in better success than making an overnight change. You may have some dietary restrictions that will modify this eating plan, but you can work those into the process.
There is other information on the site that will be beneficial to you. Keeping track of your diet is one, seeing what foods are in season in your state is another. That will help in picking the foods that are at the best price for the time of year. There are recipes, tips for eating on a budget and information for children and elders.
Once you have a plan for your meals, getting to the store is the next step. It is easier if you have an accessible path to get to the grocery. Snowy weather can hold you up so keep enough food on hand should the weather be extreme as it has been the last few years. If the sidewalk is not accessible, call the city to file a report so it can be repaired. That might take some time but at least the process can get started. If you have access to an accessible vehicle, be sure to use it. Try to warm the vehicle before you get in it. Being able to pick out the foods you want to eat helps in your dining plan.
If you cannot go to the store, see if a neighbor will pick up some items for you. There are services that will bring food to you but there is a high fee for this service. When in the store, ask at the courtesy counter for assistance. Most stores will have a staff person shop with you to reach high, low or heavy items. I like to think it is because they are nice and want to help but in reality, it is in response to their insurance liability so feel free to ask.
Shopping can take time and energy, so people don't like to do it much. Actually, smaller, more frequent trips will help you save money in the long run especially if you buy fresh produce which does not keep too long at home. It might be more of your time to shop more frequently but it can be a money saver. Mixing fresh and frozen foods will help you expand the time between trips.
Once at home, make sure your kitchen is set up for convenience for you. Forget the way your mother arranged the kitchen from the 1950s. Do what works for you. Putting frequently used items on lower shelves is a huge help.
In the kitchen, you will need to pay extra attention to safety. Carry hot and cold (especially frozen items) on a wooden tray or thick cutting board to avoid resting hot items on your lap when moving them through the kitchen. A metal tray will conduct the heat or cold making a burn or frost bite worse. Cut items at the table where it is lower and use safety gloves with sharp knives. Always think about what you are about to do to make sure you do not harm yourself.
Eating can be a challenge. A slow-moving bowel that frequently occurs after SCI can make you always feel full. Eating might not be on your list of priorities, but it must be done to keep you going. You might need to adjust your bowel program if fullness is affecting your diet. Movement of your lower legs will help move food along so doing some range of motion or wheelchair pushups or moving yourself from side to side in your chair will help move the gas and stool in your bowel making eating a bit easier. When in bed, rolling from side to side as you turn will also help.
On the other hand, food can taste wonderful. Some eat much more than they need. Think about the My Plate serving sizes. Because of lack of mobility, you might not need the number of calories that you did before SCI. Weight gain comes with eating more calories than you use. Take a bite and savor it. Getting a good taste of your food by eating slowly will help you avoid overeating.
There is a variety of equipment that can assist you with feeding yourself. Putting tape or foam on the handles of your utensils will make the handle larger which is easier to grab and hold. Plates with rims will keep you from chasing food around your plate.
There are some new feeding assists that are available on the market today. These are improvements from years past so you might want to investigate these new models. If your insurance does not cover them, ask your healthcare provider for a letter of medical necessity which might allow for an exemption.
Furniture style has changed over the last few years to include dining tables that are bar height rather than table height. Many people in chairs like this new style because you are at the same height as everyone at the table. This can make conversation easier. Where there is conversation, people usually enjoy dining.
Lastly, don't forget the cleanup. This is the part of cooking that no one really enjoys. If you have a dishwasher, great. That makes it a little easier. But there is still soaking and scrubbing to do. Try using the same dish to cook and serve. That will cut down on some of the dishes. Use just what you need. If spoons are not necessary for a meal, don't put them out.
It may be easier to use small tubs of soapy and clean water on the table rather than the sink. Be aware of the temperature of your water so you do not burn yourself. Some people use mostly paper products which can be pricey but work for certain occasions. If you have guests, a clean up party is ok at the end of a meal.
Plan ahead so you do not overdo it. And remember, we are all the same in getting it right.
I'm online in this community every Wednesday from 8-9 PM ET to answer your SCI and paralysis related questions.

Leave a comment any time below. Let's get the discussion going!

Nurse Linda

Register for my next webchat!
Sign up here!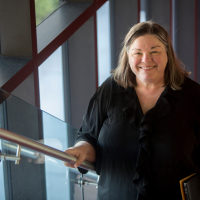 AskNurseLinda