Reeve en Español
Comunidad de información y apoyo para las personas que viven con parálisis y sus cuidadores en español.
Nutrition and SCI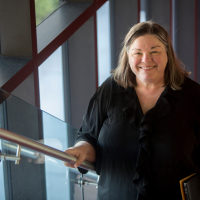 AskNurseLinda
Moderator, Information Specialist
Posts: 162
Information Specialist
Many articles contain advice to get 'proper nutrition' or to 'eat healthy'. A lot of people wonder exactly what that means. Even more are lost in the huge amount of information about what to eat and especially what not to eat. The information keeps adding and changing. With the Thanksgiving Holiday just over, there was a lot of talk about eating whatever and as much as you want because it is a special day. When did you ever hear that before? In the past, the message has been to look out for extra calories.
After spinal cord injury or paralysis, even movement disorder diseases, it can be a challenge to maintain a healthy diet and weight. Getting to the store can be difficult. Once you get the food home, preparation and cooking are a challenge. Clean up can be time consuming. Oh, it is easier just to eat take out which is high in calorie and expense. But then what about the actual eating? You just might not have the hunger sensation. Or you could find food to be too comforting.
Yes, it is a challenge but there are some helps that can assist you in conquering food and food consumption. First, become familiar with healthy eating. There is a wonderful website called My Plate.This is one of those expert reviewed government sponsored websites that few people know about but contains valuable and correct information. You can keep a confidential tracking of your dietary progress. There are all sorts of tips and information to help keep you on track. Online, there are many sites that either cost money or don't have quite the right information. This site has been vetted by the top nutritionist in the United States.
On My Plate, there is a sketch of what your plate should look like. The biggest part of your diet should be vegetables followed by grains (whole is better), protein, fruits and dairy. Here is a copy of a picture of the My Plate suggestions by the United States Department of Agriculture:

If you have trouble eating this much food at one time, this schedule from the My Plate site can help:
These and other educational information and graphic pictorials are free to use and copy from the My Plate site. The site has additional helpful information that will help you make the choices to convert to a healthy diet. Taking steps to get there will result in better success than making an overnight change. You may have some dietary restrictions that will modify this eating plan, but you can work those into the process.
There is other information on the site that will be beneficial to you. Keeping track of your diet is one, seeing what foods are in season in your state is another. That will help in picking the foods that are at the best price for the time of year. There are recipes, tips for eating on a budget and information for children and elders.
Once you have a plan for your meals, getting to the store is the next step. It is easier if you have an accessible path to get to the grocery. Snowy weather can hold you up so keep enough food on hand should the weather be extreme as it has been the last few years. If the sidewalk is not accessible, call the city to file a report so it can be repaired. That might take some time but at least the process can get started. If you have access to an accessible vehicle, be sure to use it. Try to warm the vehicle before you get in it. Being able to pick out the foods you want to eat helps in your dining plan.
If you cannot go to the store, see if a neighbor will pick up some items for you. There are services that will bring food to you but there is a high fee for this service. When in the store, ask at the courtesy counter for assistance. Most stores will have a staff person shop with you to reach high, low or heavy items. I like to think it is because they are nice and want to help but in reality, it is in response to their insurance liability so feel free to ask.
Shopping can take time and energy, so people don't like to do it much. Actually, smaller, more frequent trips will help you save money in the long run especially if you buy fresh produce which does not keep too long at home. It might be more of your time to shop more frequently but it can be a money saver. Mixing fresh and frozen foods will help you expand the time between trips.
Once at home, make sure your kitchen is set up for convenience for you. Forget the way your mother arranged the kitchen from the 1950s. Do what works for you. Putting frequently used items on lower shelves is a huge help.
In the kitchen, you will need to pay extra attention to safety. Carry hot and cold (especially frozen items) on a wooden tray or thick cutting board to avoid resting hot items on your lap when moving them through the kitchen. A metal tray will conduct the heat or cold making a burn or frost bite worse. Cut items at the table where it is lower and use safety gloves with sharp knives. Always think about what you are about to do to make sure you do not harm yourself.
Eating can be a challenge. A slow-moving bowel that frequently occurs after SCI can make you always feel full. Eating might not be on your list of priorities, but it must be done to keep you going. You might need to adjust your bowel program if fullness is affecting your diet. Movement of your lower legs will help move food along so doing some range of motion or wheelchair pushups or moving yourself from side to side in your chair will help move the gas and stool in your bowel making eating a bit easier. When in bed, rolling from side to side as you turn will also help.
On the other hand, food can taste wonderful. Some eat much more than they need. Think about the My Plate serving sizes. Because of lack of mobility, you might not need the number of calories that you did before SCI. Weight gain comes with eating more calories than you use. Take a bite and savor it. Getting a good taste of your food by eating slowly will help you avoid overeating.
There is a variety of equipment that can assist you with feeding yourself. Putting tape or foam on the handles of your utensils will make the handle larger which is easier to grab and hold. Plates with rims will keep you from chasing food around your plate.
There are some new feeding assists that are available on the market today. These are improvements from years past so you might want to investigate these new models. If your insurance does not cover them, ask your healthcare provider for a letter of medical necessity which might allow for an exemption.
Furniture style has changed over the last few years to include dining tables that are bar height rather than table height. Many people in chairs like this new style because you are at the same height as everyone at the table. This can make conversation easier. Where there is conversation, people usually enjoy dining.
Lastly, don't forget the cleanup. This is the part of cooking that no one really enjoys. If you have a dishwasher, great. That makes it a little easier. But there is still soaking and scrubbing to do. Try using the same dish to cook and serve. That will cut down on some of the dishes. Use just what you need. If spoons are not necessary for a meal, don't put them out.
It may be easier to use small tubs of soapy and clean water on the table rather than the sink. Be aware of the temperature of your water so you do not burn yourself. Some people use mostly paper products which can be pricey but work for certain occasions. If you have guests, a clean up party is ok at the end of a meal.
Plan ahead so you do not overdo it. And remember, we are all the same in getting it right.
I'm online in this community every Wednesday from 8-9 PM ET to answer your SCI and paralysis related questions.

Leave a comment any time below. Let's get the discussion going!

Nurse Linda

Register for my next webchat!
Sign up here!
I'm online in this community every Wednesday from 8-9 PM ET to answer your SCI and paralysis related questions.

Leave a comment any time below. Let's get the discussion going!

Nurse Linda

Register for my next webchat! Sign up here!
Comments