Reeve en Español
Comunidad de información y apoyo para las personas que viven con parálisis y sus cuidadores en español.
Getting Back Into The Swing Of Things Sexually, Post SCI: My Experience As A WAG of SCI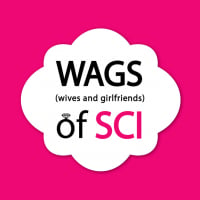 WAGSofSCI
Moderator
Posts: 379
Moderator
Hey All -
Brooke here
- Its taken me a while to get up the courage to write about this but I feel like we get so many questions from women who want to explore getting back "at it" sexually with their partners post injury, I may as well share my experience with this "process" with my husband (I hope i'm helping at least one person by sharing this!). Most women we get messages from don't know where to start, or where to get information about the process of a "new normal" sex life after Spinal Cord Injury. I am here to help.. hopefully. 
Let me break it down for you - the timeline we have gone through in order to find something that works for us. My hope is that by me bearing all about our process, I can inspire some other couples out there just beginning their journey. 
After my husband's spinal cord injury, I couldn't even think about trying anything sexually for the first few months we returned home. My mind was elsewhere.. dealing with our new schedules, care routines, the side effects of a C4 injury and getting used to the all encompassing world we were both now in was a real trip. I spent most of my spare time sleeping or trying to relax. My stress hormones were on HIGH all the time, and while I used to feel sexual often (pre-injury) - I felt like the least sexual person alive during this time. Once the initial shock of our new life at home wore off and we were both beginning to get into a good routine with less stress, we both began to explore what we could and should do in order to discover our new sex life.
We consciously chose together to take the informative route. We wanted to expose ourselves to as much information as possible in this new "realm" of sexual health in order to see what was out there and what we could use to benefit us. We are lucky to have the resources here available to us, and an entire team of dedicated professionals who specialize in getting your mojo back after SCI. We both thought -
why not? What do we have to lose?
I personally also wanted to have a wealth of information under my belt so I could help other women who are seeking insight. This was when we sought out the help of the Sexual Health Program at ICORD in Vancouver: our Sexual Health Nurse, and a Doctor who has specialized in the sexual health of men with Spinal Cord Injury for the past 25 years.
Our first appointment was hard to go to. My husband was embarrassed and ashamed, and I didn't know what to expect.. although I was super interested in what would be said. Our amazing Nurse reassured us right away and helped us on the road to a new 'sexual normal':
First Session:
 Spent the majority of the session talking about all the options for us to try together:  'Rings'; manual stimulation techniques; sex toys, choosing a short term or long acting pill like Viagra or Cialis; then the doctor gave us the prescription and sent us on our way home to experiment. I was excited and my husband was.. terrified. He felt like less of a man because it didn't 'work' like it used to down there but told me he would try anything. I was mostly interested to see how these things could work on him
Second Session
: Spent the entire session talking about what worked, what didn't for us; then we were introduced to 'the pump' (the medical device) and told to go pick it up, and try combination techniques to see what worked together efficiently and what didn't. 
Third Session:
We talked about the methods used so far, switched up the medications to try other types, learned more about what is available to try, and were prescribed 'the needle' or Prostaglandin injection to test out for a few months. We were explained how to use it, what to use it with, and were given scripts for a couple of different formulations to try. Obviously he was terrified at the thought of the needle, but once again, he pushed out of his comfort zone and adapted to trying it. 
Fourth Session:
We were introduced to various ejaculation methods available to us, and were told how to do it at home and what techniques to use for someone with an SCI. We were told what to purchase first to see if it worked, and were told to go home and practice. I went straight to the drug store and bought the WAHL back massager they recommended to us
Although the one they had recommended was tampered with by an electrician to be stronger and more powerful, I wanted to try it myself as it was reasonably priced and available anywhere. 
Fifth Session:
Medically supervised ejaculation in a clinical setting - something both of us were dreading, but forced ourselves to go anyways lol. The doctor and nurse used their medical grade vibrator to assist in ejaculation, and I was showed how to do it with a medical device. This was interesting to say the least, and I give my husband so much credit for following through with this appointment. 
As you can see, its quite a process to go through, and requires a lot of experimentation as everyones body is so different after SCI. This process took over 1.5 years to get through, but we can say it was all worth it. We were exposed to a wealth of information, and worked together in order to find ways to reach a new 'normal' sex life together post SCI.
So my question for you is - how did you get back into the swing of things with your partner in this journey? We all have unique experiences and without giving too much privacy away, I would LOVE to hear your experiences and trial and errors. 
If you want more information, or want to peruse a variety of videos made by SCI BC and ICORD in Vancouver, please visit the link here: 
https://scisexualhealth.ca/sexuality-201-sci/
If you have any more questions for me, you can find me at
[email protected]
and on our Facebook page, group, and
Instagram
!
-Brooke (WAGS of SCI)


Your WAGS of SCI
(Elena and Brooke)