Reeve en Español
Comunidad de información y apoyo para las personas que viven con parálisis y sus cuidadores en español.
The 'Zero Gravity' Recliner - A High-Quad Game Changer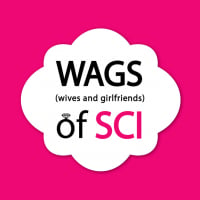 WAGSofSCI
Moderator
Posts: 379
Moderator
Hello Everyone!
During the first few months after my husband's injury at home, I was constantly looking for ways to make him more comfortable - especially when at home relaxing or watching TV. The issue my husband was having was he hated being in his chair when he wanted to relax. It was stiff, uncomfortable for him, and he just wanted some respite from the wheelchair in order to be at complete ease (well as much as possible for someone with an SCI). My grandfather had given us a leather Lazy-Boy recliner to transfer him into so he could sit in a comfortable chair with his feet up and watch tv and movies with us like a regular person, without the confines of his wheelchair. We would use our Hoyer Lift to get him into it, but the only issue was - I had to help him weight shift for pressure relief. My husband is a C4 Quadriplegic and could not do weight shifts on his own, and If I didn't help him every 20 minutes or so - he would get sore and we risked pressure marks (I was so paranoid about that!). I couldn't leave him alone for very long - even to run out to the store - so the dependency factor was an issue. I thought -
there has to be a better way!


Most of you out there who are in a relationship with a higher Quad or who
are
a Quad know about "lean back" or "tilted" weight shifting - where you lean the power chair all the way back in order to get a proper weight shift. This relieves all pressure off the bum and IT bands, in order to ensure the skin is kept healthy. When done properly, the weight of the upper body is relieved, allowing the blood to flow freely to areas of higher pressure. 
My husband would do this all the time at home when he was in his power wheelchair, and a thought sparked in my brain while he was doing this one day. I remembered my brother's zero gravity folding outdoor lawn chair he had used for years, and how the process of my husband's lean back or tilted weight shift resembled the zero gravity recline ability. I thought, what if I could find a zero gravity RECLINER that did this exact motion, but was made for indoor use? Could he then sit in this at home and do proper weight shifts IN the recliner?
The thought excited me - but I didn't know if it existed
. 
The next few weeks I searched high and low online for all the zero gravity recliners available. During my research into these chairs I found that not only were zero gravity chairs good for pressure relief, but they were also designed to help the blood in the body pump more effectively - with benefits like increased circulation, help with edema, and improved lung function among many other things. I thought - PERFECT! This is just what we need.
(See this
article
for an explanation about zero gravity chairs and their benefits)
I found one type that was modern looking and operated using a remote online, available for purchase a few hours away from us. We wanted something that looked great in our living room, without looking medical or out of place. We packed up the van with the Hoyer Lift, and made the journey to the store to test it out. When we arrived at the store, the owner let us use the space freely to test the chair. We wanted to make sure the base of the Hoyer lift could get around the base of the chair, and then we wanted to ensure that the zero gravity option was efficient for weight shifting. I slung up my husband and lifted him into the chair via the Hoyer. The lift fit perfectly around the base while in the fully opened position too. The weight shift the chair helped him achieve was almost 90 degrees, so that passed the test for pressure relief. He also could control the remote on his own using a stylus, so he could weight shift himself on his own while in the chair. Perfect! (The image below is the
exact chair
we purchased)
After we purchased the chair I thought, if we can prove that the chair is a "quality of life" necessity, and show its more efficient for weight shifting and pressure relief, we could submit the invoice to our insurance company and potentially get some of the cost covered. My husband's Occupational Therapist agreed to write a report about the chair and what it did for my husband's quality of life, as well as did a full "Pressure Map" report on the chair's cushion to prove that it had an excellent rating for low pressure. He digitally "mapped" the pressure dispersed from my husband's seated position on it, and included it in his report. We argued that the chair is MORE efficient in creating a low pressure environment than his wheelchair, and that the independent weight shifting it allowed helped my husband achieve a better quality of life. A couple of months later, we got a reply from insurance saying they would reimburse us for the full cost. All our hard work paid off. 
Now, my husband sits in his zero gravity chair whenever he's at home. It allows him greater comfort, a more efficiently controlled weight shift, and the ability to relax alone at home if he desires. It also means I, as his sole caregiver, can leave him for a longer amount of time (3-4 hours) without worrying and having to help him with his weight shifting. We are both so happy with this chair and hope that this can help other couples searching for a similar solution.
Happy relaxing!
- Brooke (WAGS of SCI)
Your WAGS of SCI
(Elena and Brooke)
Comments