Home
›
Newly Paralyzed
›
What to Expect
›
Out of Hospital
COVID-19 Concerns
Post your questions or concerns about COVID-19 on Reeve Connect for our Information Specialists and experts to address
here
.
"Shower Buddy" - Shower Commodes for BATHTUBS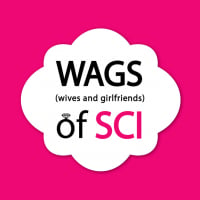 WAGSofSCI
Moderator
Posts: 384
Moderator
Hello everyone!
Elena here..

This morning Dan and I decided to call of Home Care do to a series of events that lead to them informing us that they would be ONE and a HALF hours late. Dan is a full-time student, and has an exam today so his handy, WAG of SCI, came to the rescue. After all was said and done, it only took me 30 minutes to get him out of bed, showered and dressed. We enjoyed coffee and my famous "Avocado Toast" breakfast. 
Anyway, where was I...?
Right, so while I made some posts on our online forum about his shower routine, many woman came forward and wanted some more information how he gets into the tub and what sort of equipment we use...So, I have added some photos of the "Shower Buddy". 
Step 1: BEDROOM: Ceiling Lift- out of bed/ into commode, off to the bathroom we go... 
Step 2:BATHROOM: TILT commode back so his legs can fit into the tub,
Step 3: Attach commode to the sliding rail
Step 4: Slide into bathtub to the stationary apparatus (it is suctioned into place)
Step 5: Detach commode, close shower curtains and TA-DA!
Out comes a clean Dan!
Find photos attached: ----> 
Elena
Your WAGS of SCI
(Elena and Brooke)