Reeve Connect will be shut down on October 31, 2021, while we reimagine and refresh our community forum.
Thank you for making Reeve Connect a place where all people living with paralysis come to share their stories, tips, and engage in lively discussions. Stay connected with Reeve as we explore new community platforms and bring you an updated site that will be easier to navigate and accessible for all people living with paralysis. You can follow the Reeve Foundation on social media and sign up for our newsletter to receive the latest news on our initiatives and programs.
Read more
Latex Leg/Thigh Bags From UROCARE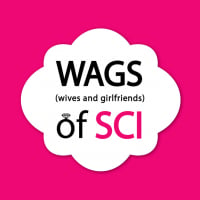 WAGSofSCI
Moderator
Posts: 379
Moderator
Springtime: The onset of THIGH BAG season!
Do you or does your partner wear a condom catheter? We have had hundreds of women talk to us about options for urine drainage that are available for their partners. Bladder control (or lack there of) can literally be life changing in so many ways, so we are always looking for more efficient ways to manage the bladder. Most women we talk to do not know about condom catheters, and most have never heard of a latex bag so we thought we would elaborate on what these things are... 
Condom catheters are completely external, are applied to the penis just like a regular condom, and hooks up to a bag of some sort that attaches to the leg. When you pee, it drains from the condom into the bag. This however, can be very inefficient depending on the bag and condom you use. If you have the wrong type, you can get back flow issues, and have accidents more frequently. Who wants to worry about that??
If you or your partner has accidents frequently between caths, or, they want another option made available for them as a possibility for bladder maintenance, read on. 
First tip: if you are considering something other than a Foley or constant cathing (or you have accidents in between caths frequently), visit your Urologist and get a "Urodynamics" exam. This exam and test will show you if you can wear a condom Cath safely or not without needing to Cath as frequently (
see Nurse Linda's post about Urodynamics exams
). If you can wear one without needing to Cath as much, it saves a lot of time, and provides more independence to your partner and you. Best case scenario: you can continually void naturally without your bladder getting too full to cause danger to your body. You can also wear a leg bag in between caths if you void excessively to prevent leaks. 
The latex reusable leg and thigh bags from Urocare literally changed ours and our partners lives. Not only do they last forever if you look after them and spray them each night, but they have odor eliminating technology as well as an anti-back up valve that prevents "blow off" and reverse streams like regular white or clear disposable leg bags. Before these bags, our partners were constantly blowing off their condoms because the stream kept coming back up when they moved in certain ways. This meant more accidents and more clean ups that had to be done by us.  The Urocare bags prevent this entirely, and ensures more confidence when wearing these bags in summertime. 
If you use a condom catheter, and do not want your bag exposed in the summer when you're wearing shorts, they have 3 different sizes of "thigh" bags available. They're virtually undetectable underneath shorts and they spare the embarrassment of wearing your leg bag and having it exposed with shorts on.
The sizes for leg bags vary, and many shapes are avialble
Each latex bag comes with latex, stretchy straps that stay put even when wet. They also have 2 different options for drainage: quick drain or straight through with thumb clamp depending on your preference. Latex tubing is available separately, and can be hooked onto the bag and connect to the condom with an adaptor piece.
This is what it looks like fully assembled with tubing and quick drain valve (below). Assemble and attach to condom, run down the inside of his leg, strap to the calf, and go! Ensure you have just the right amount of tubing so its not pulling, but not too lose.
WAGS of SCI "expert" tip
: ensure tubing runs down the inside of the leg, under the knee, and position the bag on the outside of the side of the leg. This ensures the urine is always running down stream, and can drain effectively. People make the mistake of placing the tube up and over the thigh, but this creates back flow and could cause more accidents. You always want the urine to be running downstream without getting pinched. 
Your WAGS of SCI
(Elena and Brooke)
Comments