Reeve Connect will be shut down on October 31, 2021, while we reimagine and refresh our community forum.
Thank you for making Reeve Connect a place where all people living with paralysis come to share their stories, tips, and engage in lively discussions. Stay connected with Reeve as we explore new community platforms and bring you an updated site that will be easier to navigate and accessible for all people living with paralysis. You can follow the Reeve Foundation on social media and sign up for our newsletter to receive the latest news on our initiatives and programs.
Read more
Poll: What Do The WAGS of SCI do for a living? Jobs, Job Satisfaction, Caregiving Balance And More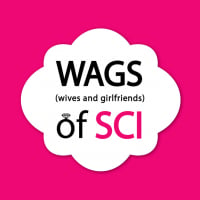 WAGSofSCI
Moderator
Posts: 379
Moderator
We absolutely love WAGS of SCI polls! (and we know our followers do too 
)
We conducted a job and employment poll on our Instagram page and we loved all the results! Not only do these polls encourage all our WAGS to interact, but they also let us know more about WHO our followers are and what their lives are like. We also get a lot of emails from women who are looking for NEW jobs or trying to find something more flexible to do so they can be caregivers as well, so this will be helpful to many different women out there!
Take a look at our polls below and some of the results - they may surprise you! Although these polls are just for interest sake, and are for fun and general knowledge, we DO actually get some pretty accurate results when we look over who responded to what. So lets take a look at what all the WAGS responses were....
We asked the WAGS of SCI if they worked full or part time in their household:
Then we asked what they do for work -  Do they work outside the home, from home, or are they full time caregivers/homemakers/stay at home moms? We had SO MANY responses from our amazing followers we couldn't post all the results on our story (too many pages!) so we went through all of them, added the multiples up, and wrote them down below:
Here are the specific jobs our followers responded with:
- HR/Recruitment x 3
- Stay At Home Caregiver x 21
- Customer Service at Travel Agency x 2
- Educational Assistant x 4
- Nurse x 12
- Trauma Nurse Practitioner x 2
- SCI Rehab Nurse x 3
- Nurse In Training x 5
- ICU Nurse Manager
- TV News Anchor
- Volunteer
- Writer For Magazine 
- Teacher x 12
- Accountant x 4
- Pianist/Piano Teacher
- Speech Therapist
- Recreation Therapist x 5
- Student x 10
- Social Media Marketer 
- Special Education Teacher x 2
- Refugee Job Coach
- RSPCA Inspector
- Nanny/Childcare x 3
- Stay At Home Mom x 6
- Optician
- Administration x 3
- Server x 5
- Occupational Therapy Assistant x 4
- Occupational Therapist x 5
- Senior Living Advisor x 2
- Architect x 3
- Attorney
- Business Owner x 2
- Student/Caregiver x 6
- Crazy Cat Lady
- Personal Trainer x 4
- Home wellness business
- Wedding/lifestyle filmmaker 
- Homemaker x 2
- IT assistant
- Freelance marketing x 2
- Bartender x 4
- Secretary/Bookkeeper x 3
- Physical Therapist x 3
- Physical Therapist Assistant x 2
- Care Aid At Nursing Home x 2
- Receptionist/Admin Assistant x 2
- Project Coordinator x 2
- College Athletics Coach
- City Planner
- Freelance Photographer
- Website Development
- Optician
- Financial Analyst 
- Retail Manager x 3
- Mental Health Therapist
- Freight Forwarder
- Pharmaceutical Research
- Ice Cream Parlour Employee
- Cosmetologist
- Digital/Web Designer x 4
- Freelance Graphic Design x 2
- Medical Secretary
- Sales x 2
- Medical Equipment Procurement
- Event Coordinator
- Advertising Sales
- Prosthetist
- Hotel Manager
- Team Reeve Manager
- House Cleaner
- CEO
- Supervisor
- Aircraft Design Engineer
- Social Worker x 2
- Pharmacy Technician
- Flight Attendant
- Jewellery Designer/Maker x 2
- Company Director
- Yoga Instructor
- Leadership Coach
- Salon Owner
- Truck Driver
- Barber
- Artist
- Uber driver x 2
- Makeup Artist
As you can see, a WAG of SCI can do pretty much anything for work! There was a large number of Nurse and Care related positions, stay at home WAGS, as well as Occupational/Physical therapy roles reported. Regardless of this, Its important to note that the SCI lifestyle doesn't discriminate: SCI can happen to any couple in all walks of life as you can see from our results.  
Next we talked about job/caregiving satisfaction. Take a look at some of the results below:
 *Surprised: an even 50/50 split!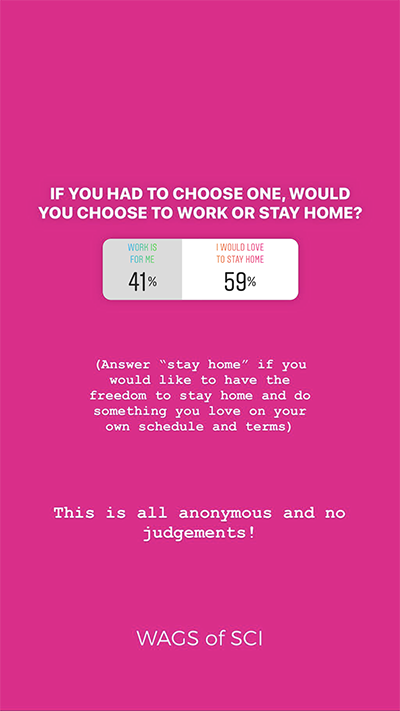 We were interested to know how many of the WAGS of SCI were stressed on a daily basis:
The reasons WHY they felt stressed will surprise you:
A massive portion of you are stressed daily because of financial reasons, NOT because of caregiving related stresses. Hmm..
Then we moved on to disability coverage:
We can't say we are surprised at the disability coverage result. This is a huge issue in our community as most insurance does not provide enough coverage to properly support someone with a disability. \
We hope you enjoyed reading our poll about what the WAGS of SCI do for work, and how they balance their lives. We hope you learned something, or were inspired by something you read today!
Thank you to ALL the WAGS of SCI who participated. We learn SO much from you every day. Every single poll you interact with...every single story you share - will help out thousands of people around the world.
Thank you for always doing your part to educate, inform and inspire. 

If you did not get a chance to respond to our poll on Instagram, What do YOU do for work? Do you have any comments on these results? We would love your feedback. 
Your WAGS of SCI
(Elena and Brooke)
Comments