Reeve en Español
Comunidad de información y apoyo para las personas que viven con parálisis y sus cuidadores en español.
COVID-19 Concerns
Post your questions or concerns about COVID-19 on Reeve Connect for our Information Specialists and experts to address
here
.
Reeve See Us
kurashley
Member
Posts: 6
✭
My name is Ashley Kurtz and my fiancé's name is Kiel Eigen. We have been together over 5 years now, and engaged since April 28, 2018. We are going to be getting married November 2, 2019. We met through friends and after our first date we hit it off, even living an hour away from one another, we were inseparable. We dated for 4 years and our relationship quickly grew. When Kiel and I first began dating and I was told he was in a wheelchair, I didn't know what to expect. When we went on our first date, Kiel drove and to be honest I didn't have a clue at that moment how that was going to happen, if I'd need to help him get out of his car, the questions raced in my mind. When we got to the restaurant, I got out of his van and waited for him on the drivers side door, little did I know he was going to come down a ramp that deployed from the back passenger side. From that moment on, I had no doubts about Kiel- wheelchair or not, I knew I wanted to be apart of his life and I certainly wanted him apart of mine. Kiel is truly just such a special human being. He was injured playing football, during the first game of the season when he was just 14 years old. Kiel was always competitive in all sports he played, and he was an exceptional athlete. On September 12, 2006 Kiel collided face mask to face mask with another player, and instantly he knew something was wrong. He explains that moment to have felt like his entire lower body felt like it was asleep, like when your foot falls asleep. He couldn't move but was fully aware of what was happening. Even so, with such a tragedy occurring Kiel was concerned about getting home by Friday to see a new movie that was coming out, he didn't fully understand the severity of his injury. He says that he thought he was going to get a neck brace and be sent home. He didn't know he wouldn't be able to walk, or that his life was about to be completely different. He was life flighted off the football field and taken to an ICU in Philadelphia for 13 days. After his time in the ICU, he spent time at Allied Services inpatient rehab, and then went on to do outpatient. Throughout his entire ordeal he kept up with school, wasn't held back and graduated on time with his class. Kiel now goes back to Allied Rehab to talk to newly injured patients and to show them life still goes on, and it's all about how you look at the situation. Some days aren't perfect even still for him but you'd never know it based off of his attitude. He's always positive and pushing to make a difference in people's lives. He works full time at Quantum Rehab, a wheelchair manufacturer where he helps with the technology and advancements for wheelchair users. We have gone to advocate at the hill in Washington to allow for better accessibility throughout this country. He just never stops making a difference. He has opened my eyes to so much. Kiel has taught me to be selfless and to always live life to the fullest, as you never know what tomorrow will bring. Our relationship isn't perfect but together we are perfect. There is good in everyday, and I'm grateful for him- wheelchair or not. We bought our first home this year, and are proceeding to get ready for our upcoming wedding. Kiel proposed to be at a winery on April 28, 2018 in front of people we both love. It was a perfect day and I still can't believe almost a year layer we are going to be married this year! Kiel always says that the only disability in life is a bad attitude!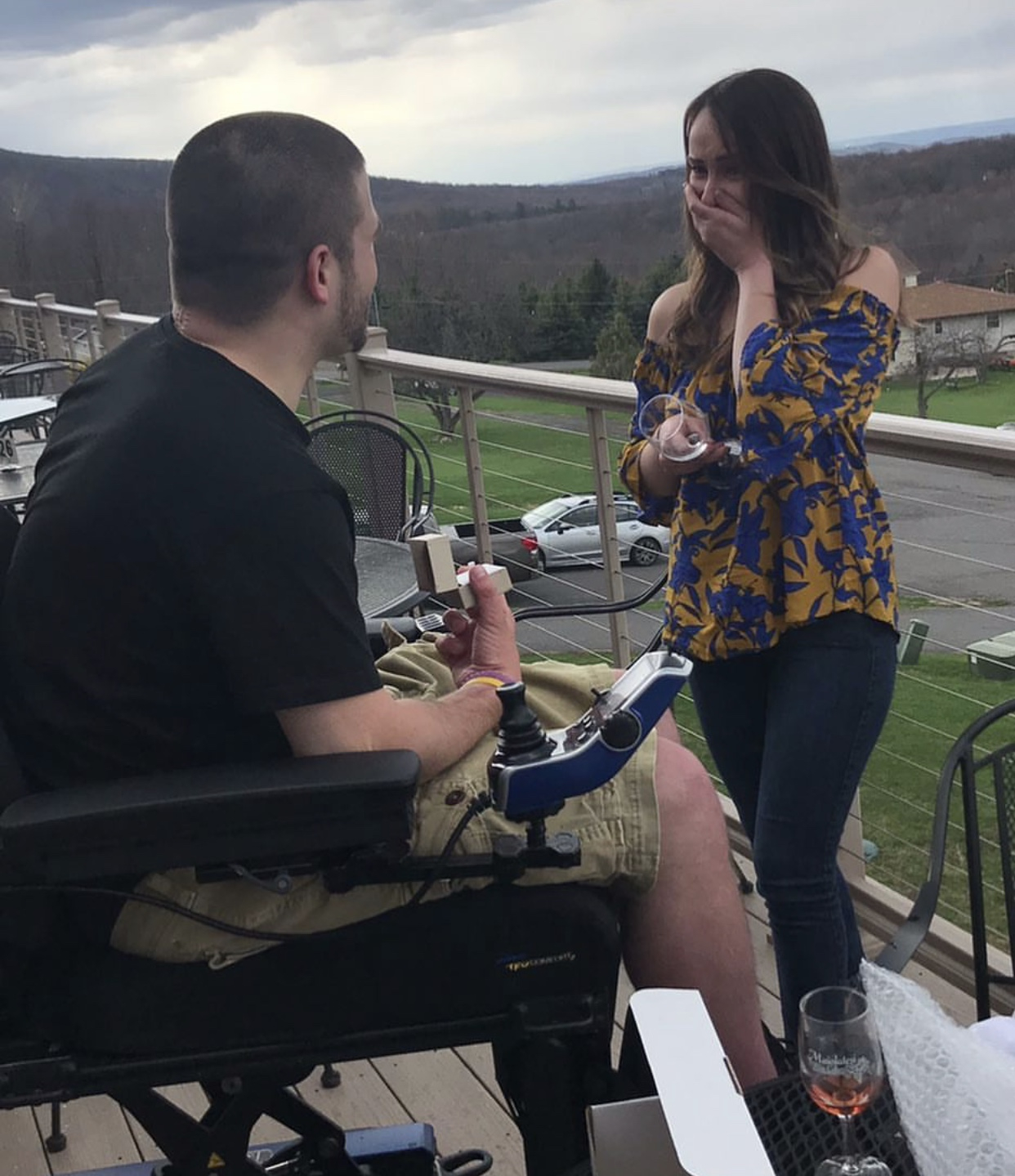 Categories
58

Announcements

788

Reeve Categories

60

Relationships

42

Relationships Topics