Reeve en Español
Comunidad de información y apoyo para las personas que viven con parálisis y sus cuidadores en español.
COVID-19 Concerns
Post your questions or concerns about COVID-19 on Reeve Connect for our Information Specialists and experts to address
here
.
Caregiver Burnout (yes, it can happen to you)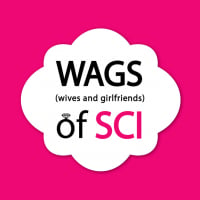 WAGSofSCI
Moderator
Posts: 384
Moderator
Hey guys! It's been a hell of a month at our house. A week of sleepless nights and insomnia for my husband, followed by sickness for him that lasted over a week, then, a few weeks of skin issues.... followed by ME finally succumbing to a virus. These set backs happen in this SCI life, and its hard to balance and keep track of everything. The biggest challenge I personally find is to see the light that will come after the chaos. 
This past month has been a huge struggle for me mentally and physically. I pride myself in eating well, going to the gym, and taking time out for myself as often as I can in order to avoid getting sick. BUT.. then things happen like this where both of us get sick, and all the issues that come along with that, can really wear on your mental wellness. I remember after 2 weeks of my husband peeing the bed, being bed ridden due to his sickness, not having an appetite and not sleeping, he told me "babe I feel like Im going crazy. Seriously. This is really wearing on me." I comforted him and told him things will be OK - and that he just needs to see the sun through the clouds. Doing what I always do.. being the support that he needs in order to make it through. Telling him that this was only a temporary hiccup. Of course, as soon as I started to not sleep due to me helping him, and then after a while of that, succumbing to a virus, I felt like I could not be the cheerleader or physical support that HE needed. Then this started to wear on me. Getting up to help him, assisting in all of his care, and being mentally stable enough to get all the housework done etc - was turning into something I couldn't fully do anymore. I started to weaken mentally, and then, BOOM - I got sick.
I remember waking up on Saturday morning and feeling like my body was literally shutting down. It was like all of. a sudden, my body said to me "ok lady - if you don't want to stop or slow down, WE will slow down for you!." I crashed. And it was a big crash. I decided that I needed to rest, no matter what the cost. So, my husband was set up in his chair, and I made a bed on the couch. He sat with me all weekend and we watched movies. It was what I needed to heal. 
Caregiver burnout is something discussed widely in our world, however, ways to avoid this aren't spoken about much. How do you take time to relax to avoid care burnout when you're a full time caregiver with a partner who relies on you? Its tough because everyones situation is different - different injury levels, different needs, different obstacles. There truly isn't one size fits all for avoiding burning out from stress and too much to do. For me personally, I tend to use resources like organization tools and people available (as well as various services in the community) to help me when I need it. I try and take the load off of myself of all the other things I have to do around the house in order to focus on having my husbands care at the forefront because, I do enjoy helping him.
This month I wrote a blog for Reeve outlining my tips I use myself or have learned over the years to take a load off - and ease the stress of the other daily things that "need to get done" on top of being a caregiver. For me, this has helped me out tremendously. It allows me to focus on helping my husband to live - which gives me great satisfaction.  It is however hard to see the light at the end of the tunnel when things like no sleep, more stress and sickness are added into the equation. It's interesting that right after I wrote this, I myself burned out hard. Makes me think I am going harder than I thought I was - probably for years. Everyone needs a break. 
My question for all of you: When your mental state is altered from lack of sleep and burnout, how do you cope?
How many of you out there are dealing with caregiver burnout? I am so interested to hear about other's techniques for dealing with the mental aspects that burning out may bring, and how to avoid this. Is there really a way to avoid it? Or do you just deal with it and move through it. 
Thank you all for your comments in advance. They will help so many people who are struggling with this. 
- Brooke (WAGS of SCI)
Your WAGS of SCI
(Elena and Brooke)
Categories
58

Announcements

788

Reeve Categories

60

Relationships

42

Relationships Topics