Reeve en Español
Comunidad de información y apoyo para las personas que viven con parálisis y sus cuidadores en español.
COVID-19 Concerns
Post your questions or concerns about COVID-19 on Reeve Connect for our Information Specialists and experts to address
here
.
Travelling with a Quad or Para: Something ALWAYS happens that isn't expected...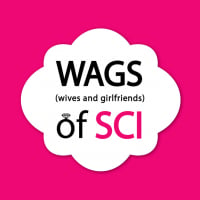 WAGSofSCI
Moderator
Posts: 384
Moderator
Hello everyone!  We wanted to post about travelling together and how it shouldn't be avoided or something to be afraid of... as it seems that something (either big or small) happens at least once to test us - every single trip - that is out of our control! These situations shape you and create good things out of less than desirable incidents. 
When wives and girlfriends message us about travelling, I always say to them -
you can be as prepared as you can be, but something ALWAYS will happen to test you - so be prepared for that.
Why you ask?
My husband and I are pretty seasoned travellers. Since his injury 5 years ago we have been to Europe twice for long periods of time, enjoyed "Puddle jumper" flights where the plane is so small you feel like the chair will weigh it down, and also road trips to a bunch of places. Regardless of the planning (I consider myself anal when it comes to check lists and ensuring I don't forget anything) something ALWAYS happens to either test our patience, or prove our resourcefulness. 
It doesn't seem to matter how organized you are - in this life - you have to learn how to adapt (and overcome) pretty much any situation. This is a blessing of course, as you can learn so much about each other and yourself in stressful scenarios. The important thing to know is - you CAN figure it out.. together. 
My advice? If you know that something may or may not occur while you travel, it doesn't make the experience as stressful to know that if something happens - it will be ok. You will be forced to think on your toes, use parts of your brain you didn't know existed, and think OUTSIDE (far outside) of the box. You will learn how to work patiently as a couple in ways you didn't know you could, and in the end, you will have restored faith in humanity.
I remember when we were in Italy we took a mini road trip to Bologna with my husbands manual chair and Batec bike attachment. The day before we left our home base the side piece (guard) of my husbands manual chair (the piece that protects his side thigh/bum from rubbing on the tires of his chair) was left on the roof of the car by me accidentally when breaking down his chair to get it into the car - and I drove off while it fell off. He couldn't even ride around slowly in his chair because of the rubbing of the tire against his pants - potentially causing a pressure sore. We made a make shift cardboard piece that wouldn't be a permanent solution, and put our thinking caps on.
If you know Italy, you know barely anyone speaks English or uses email frequently, and not once did we see anyone else in a wheelchair. We panicked for a while, then thought outside of the box - "lets email our medical equipment rep at home in Canada and see if they have any contacts in Italy to find a replacement part."
Turns out, they DID know of a rep of a wheelchair company who had an office in Milan. They connected us with him via email, and I reached out. The rep named Mario came though, and got back to us immediately - telling us he could express ship the exact piece to us overnight so we could enjoy our time in Bologna. Sure enough, the piece was waiting for us at our hotel when we arrived.
A year or so later, I ended up having to use them again when another WAG was in Italy and her fiancé's cushion was left behind on the plane! I emailed him, and he went to meet them the next day with a new cushion. 
So, as you can see, travel experiences build character and although sometimes they can be stressful, if you know you truly can do anything and you go in as prepared as you can, it will all be OK and a good learning experience. 
Do not be afraid to travel post injury! It's something you should never avoid and it will make you both better humans.
- Brooke 
Your WAGS of SCI
(Elena and Brooke)
Categories
58

Announcements

788

Reeve Categories

60

Relationships

42

Relationships Topics