Reeve en Español
Comunidad de información y apoyo para las personas que viven con parálisis y sus cuidadores en español.
Walking Lanes vs. Bike Lanes for Wheelchairs?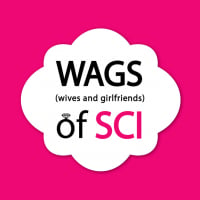 WAGSofSCI
Moderator
Posts: 379
Moderator
The other day my boyfriend Dan and I were out for a walk with out two dogs (Charles & Frank). We live in Vancouver, B.C- a city that supports bicycle use and emission free transportation. Doesn't matter what part of the city you go to, you will hear the "swooosh" from bicycles whipping around every corner and down the street. 
The side walk is split into two lanes; walking and biking. I've added a photo below to show you guys what our wheels/ walks typically look like. When we are in the walking lane, joggers pass up and look back wondering why a chair with wheels is in the walking lane, and when we go into the bike lane- we're too slow. 
What are your thoughts? Let us know!

Elena

Your WAGS of SCI
(Elena and Brooke)
Comments