Reeve Connect will be shut down on October 31, 2021, while we reimagine and refresh our community forum.
Thank you for making Reeve Connect a place where all people living with paralysis come to share their stories, tips, and engage in lively discussions. Stay connected with Reeve as we explore new community platforms and bring you an updated site that will be easier to navigate and accessible for all people living with paralysis. You can follow the Reeve Foundation on social media and sign up for our newsletter to receive the latest news on our initiatives and programs.
Read more
November 4th Is International WAGS of SCI Day!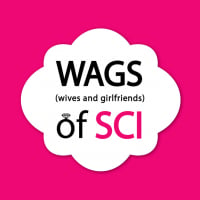 WAGSofSCI
Moderator
Posts: 379
Moderator
We are excited to announce that it is International WAGS of SCI Day THIS November 4th!
We will be promoting this international holiday via our various social media outlets and website leading up to the date, and would love your support in sharing this! We are encouraging all WAGS of SCI and their partners to treat this day like a combination of Valentines Day and your WAGS Birthday. Things to do on this day are things like taking the day off, self care activities, visiting a spa, taking a much needed date night out where you can SPOIL your WAG, and general activities of appreciation and love for all she does. More details coming after SCI awareness month.
Stay tuned for merch announcement coming soon, and the official graphic is below. 
If YOU have any questions about this holiday, or if you feel like you want to help us in any way please email us
[email protected]
- Brooke and Elena 
Your WAGS of SCI
(Elena and Brooke)
Comments