Reeve en Español
Comunidad de información y apoyo para las personas que viven con parálisis y sus cuidadores en español.
COVID-19 Concerns
Post your questions or concerns about COVID-19 on Reeve Connect for our Information Specialists and experts to address
here
.
Counselling For The Injured And Their Partners Post SCI - Why Is This Resource Not Available?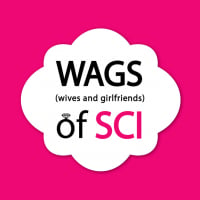 WAGSofSCI
Moderator
Posts: 384
Moderator
Hello everyone - Brooke Here
.
It's Spinal Cord Injury Awareness Month and this week, we are focusing on Mental and Emotional health and wellbeing post SCI. Here are some thoughts I have on this subject:
As a wife of a man who sustained a C4 Spinal Cord Injury at age 25, I can honestly say mental health has been something that we have struggled with the most. We found that - especially in rehab - there are not enough counselling resources available for someone with an SCI, and definitely not someone who is their partner. Our experience early on was because of lack of funding, there were not any chances to receive counselling at the rehab facility. They reserved this service for people who were deemed "Suicidal" and did not even assess the romantic partner of the paralyzed individual. Once my partner was assessed as not being "at risk" - he was shooed away. I searched for counsellors who specialized in post trauma and processing injuries, and most of them were $150 or more per hour. It just wasn't in the cards for us at the time, but we both could have used some form of therapy.
 We waited a couple of years and realized that we both needed to invest in some help communicating, and releasing a LOT of emotions from his accident and what it did to our relationship. Those who have experienced paralysis KNOW that sometimes, the depression, heartache, flashbacks and general anxiety can come months or years after the accident actually happens. 
Before we were married (2 years after his injury), we did 10 sessions with a counsellor who helped us with communication, as well as EMDR (a therapy technique used for PTSD) but had no help paying for it from the government or insurance. Insurance said it wasn't "Necessary" because of the fact he wasn't suicidal - so that was that. We did it on our own as an investment in the future health of our relationship, and did sessions together and apart. We both found that we benefitted greatly from these sessions, but it was a huge cost to us financially. 
This is something I am incredibly vocal about in our community - the importance of counselling and talk therapy. I become so frustrated at the lack of funding and resources available, and still do not know why these services are limited in rehab. To me, and my husband agrees - the psychological/mental/emotional health aspects of this injury - and what it does to your brain and psyche - can be so overwhelming that it can literally ruin your chances of moving forward. 
So my question to everyone else is - what is your experience with counselling post SCI? Do you think you would benefit from assistance with some form of counselling post injury?
I would love to know your experiences.

Thanks in advance 

Brooke 
Your WAGS of SCI
(Elena and Brooke)
Categories
58

Announcements

789

Reeve Categories

60

Relationships

42

Relationships Topics