Reeve Connect will be shut down on October 31, 2021, while we reimagine and refresh our community forum.
Thank you for making Reeve Connect a place where all people living with paralysis come to share their stories, tips, and engage in lively discussions. Stay connected with Reeve as we explore new community platforms and bring you an updated site that will be easier to navigate and accessible for all people living with paralysis. You can follow the Reeve Foundation on social media and sign up for our newsletter to receive the latest news on our initiatives and programs.
Read more
The Apple iWatch For Quadriplegics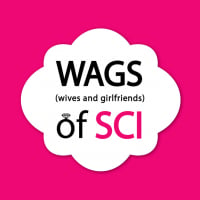 WAGSofSCI
Moderator
Posts: 379
Moderator
Hello Everyone - Brooke here - any quadriplegics out there who use the iWatch to help them communicate on their phones more independently?
My husband purchased the first ever generation of the IWatch when it came out over 5 years ago as a way to use his phone more efficiently. When he was in rehab, he was told to strap his watch to his leg. But for him, this meant wearing a stylus all the time, and it became more of a pain and eyesore than help. He cannot get his own phone out of his own bag, so this was the only option they had for him.
He wanted to communicate independently, and I wanted something that he could wear that wouldn't come off, or be obstructed. We had issues with his phone falling off, or moving off his leg, and then he Was stuck without it. His phone was also too far away from his body to use effectively so it took him forever to text or email.
When the first  iwatch came out we ran out and got it immediately as it was something he could use independently very easily. As his girlfriend it gave me more confidence to leave him alone and not worry about his phone being out of his reach or him falling and not being able to use it. I also LOVED the emergency function of the watch and how easy it is to call 911 for him if something happened. He also loves the Rolling function that tells you to "roll" and how you can set it to wheelchair functionality fitness.
Well its 5 years later and my husband decided to invest in the latest generation Iwatch 5 as his Siri on his older one is really starting to lag and not work. Its becoming a safety issue as he relies on it so much when he is out and when im away.  He also loves the fact that the new watch has GPS and Cellular so he doesnt need to bring along his cell phone in his bag for it to work.
Does anyone else out there have experiences with the IWatch? I generally feel that technology is becoming more and more quad friendly and that makes my heart happy
Thanks in advance
Brooke 
Your WAGS of SCI
(Elena and Brooke)
Comments