Reeve en Español
Comunidad de información y apoyo para las personas que viven con parálisis y sus cuidadores en español.
Pediatric Spinal Cord Injury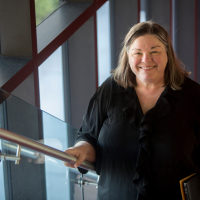 AskNurseLinda
Moderator, Information Specialist
Posts: 165
Information Specialist
This is devoted to young individuals and their families who are dealing with spinal cord injury and other forms of paralysis. The hope is to make this a safe place to discuss what is going on in your lives, your hopes and dreams, and with a few practical tips along the way.
Please allow me to introduce myself. I have been a rehabilitation nurse for quite a few years, working in adult and pediatric settings. For 10 years, I worked as a pediatric rehabilitation nursing specialist prior to specializing in spinal cord injury. My work in spinal cord injury includes both adults and pediatrics.
It was my fortune to be able to work with Christopher Reeve in his recovery. All the individuals involved in that endeavor contributed to the evolution of health care. Today many of the techniques and treatments provided to individuals, adults, and children, were developed because of that work. The discoveries have continued with the same underlying philosophy, hope. Many of the treatments are becoming reality.
Although titled spinal cord injury, many diagnoses will be included in our conversations as the physical function aspects are similar. Spinal cord injury includes those who have had trauma as well as those with spinal cord injury as the result of medical conditions. In healthcare, when talking about SCI, all diagnoses are considered. Please know you are welcome.
There are some basic differences in the treatment of SCI in adults and children. These include physiological differences, psychosocial differences and growth, and development.
Physiology, or how the body works, is different in children and adults. Teens are somewhere in between as their body ages. Basically, the younger the age of a person, the larger their head is in relation to their body. Positioning is slightly different to accommodate keeping the head in alignment with the spine. In adults, when positioned on the back, the head and torso are in alignment but for infants and young children, the body needs to be supported a bit higher to accommodate the head size and maintain alignment.
Breathing is also different in that children's necks are shorter, creating less space and therefore, fewer challenges for moving air in and out of the lungs but more complicated when issues such as paralysis arise. Oxygenation within the lungs is quicker which is why children breathe faster than adults. The heart pumps more quickly and digestion is typically faster. Skin is heartier but not necessarily less susceptible to breakdown. Knowing the physical differences for children in an adult world can make a difference in their care.
Psychosocial issues are challenging for everyone. Adults have adult issues; children's issues are different. This is important for keeping in mind a child's point of view. If an injury or illness occurs earlier in life, the child will not see themselves as different. They see what is normal for them. There are times in life when the difference becomes notable, but their way is normal, it is others who have the difference. This is a unique perspective.
As child ages, differences can become more apparent. Transitioning from adolescence to adulthood is a challenge for everyone. Creating a world of normalcy in the midst of adolescent development layered with a chronic issue can be arduous.
Parents and family members need to be included in the discussion. Issues for parents might include guilt, over and under indulging, the strength of the family as well as family dissolution in some cases. Add in step-parents, grandparents, teachers, friends and influences and opinions abound.
The theme of the first two differences, physiological and psychosocial is the third difference between adults and children, growth and development. Between infancy and adulthood vast changes take place in our children. No other time in a person's life contains such a vast amount of change. This is a lot to undertake for anyone.
Rehabilitation is different in children. In fact, the 're' in rehabilitation is often omitted. Habilitation is learning in real time or learning while something is actually occurring. There is no 're' or relearning about it. You cannot teach someone to relearn to sit if they did not accomplish that milestone prior to their SCI. For children, it can be learning to succeed in all the developmental milestones for the first time. The milestones change with age. For adolescents, it may mean learning to drive after an SCI or dating for the first time.
Let the blog be what you need it to be. I will post one time a month but use this space to bring up subjects that are of interest to you as a person with an SCI or parent or sibling. Whatever is on your mind is most likely on the minds of others. You will get ideas for success from as many people as those who you help. You might trigger a thought that has been in someone else's mind. Let's see where this goes.
I'm online in this community every Wednesday from 8-9 PM ET to answer your SCI and paralysis related questions.

Leave a comment any time below. Let's get the discussion going!

Nurse Linda

Register for my next webchat! Sign up here!
Comments