Home
›
Health & Wellness
›
Preventative Care
COVID-19 Concerns
Post your questions or concerns about COVID-19 on Reeve Connect for our Information Specialists and experts to address
here
.
Spinal Cord Injury & Burnout (for the injured individual)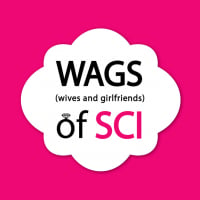 WAGSofSCI
Moderator
Posts: 384
Moderator
Hello everyone,
Hope this weekend finds you well. With the change of season and change of temperatures preparing for the transition on our minds and bodies can feel exciting and a little chaotic. Changing wardrobes, preparing for body temperature changes, new routines, perhaps some of have returned back to school or work etc. I came across this awesome article posted on Backbone.com and I thought it was a really good read, even so that I shared it on my public forums and with all my able bodies friends and family. Check it out! 
WEB:
https://backbonesonline.com/sci-burnout/?fbclid=IwAR02cg6BeilRAM-DlCDLgrSyLfn6vF0PmsOqa_GubL4pB1EFlo9BQTtI_Ac
Leave a comment below if you agree or disagree with the article.
Thanks for reading,
Elena
WAGs of SCI 
Your WAGS of SCI
(Elena and Brooke)