Reeve en Español
Comunidad de información y apoyo para las personas que viven con parálisis y sus cuidadores en español.
Hoyer Lift Wheels: Impossible To Clean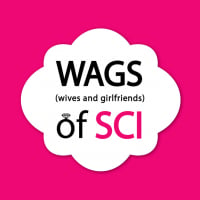 WAGSofSCI
Moderator
Posts: 379
Moderator
Hey All - Brooke here! 
We have a Hoyer portable lift in our house for transferring my partner to and from his recliner in the living room. We use it to take him out and get him into bed directly instead of having him transfer again into his wheelchair. I pick him up from his recliner, then roll him from the living room to the bedroom and put him into bed, and it works really well! We also use this lift for travel.. it folds up and fits into the van trunk perfectly and we can stack other luggage on top of it when we are going places. Although I absolutely hate the look of it, We don't know what we would do without it. 
That all being said, we have come across an issue that no one seems to be able to remedy. 
We have a dog and I have long hair. Its a nightmare for the wheels. It makes it so they seize up fully, and do not roll. Its been 5 years and they're at the point where they literally do not move and I slide the Hoyer around instead of roll it. It is unsafe. While I take the hair off whenever I can, it gets wrapped around the interior of the inside of the wheels on all sides, and its nearly impossible to remove. 
We had our wheelchair tech visit our house and try and remove the hair (embarrassing) and he had no luck. He told me that in 14 years of him working for this company, no one else has ever had this issue. He then called the Hoyer lift company who makes them and asked them to help.. they said you couldn't remove the wheels and they would have to replace the entire base of the Hoyer lift.
I thought to myself.. there HAS to be a better way! How can I be the only one who has had this issue? Does no one else have cats dogs or long hair? I do my best to make sure the floors are spotless, and I am sure this is why the lift has lasted as long as it has. 
Are they just saying we have to replace the bottom of the lift to make more money off of us? why would a company design something like this and make it impossible to clean the wheels? Has anyone out there had this experience before?? Send help and advice!
- Brooke 
Your WAGS of SCI
(Elena and Brooke)
Comments