Home
›
Emotional and Mental Health
COVID-19 Concerns
Post your questions or concerns about COVID-19 on Reeve Connect for our Information Specialists and experts to address
here
.
Support for Caregivers who are Romantic Partners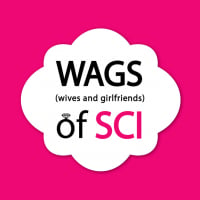 WAGSofSCI
Moderator
Posts: 384
Moderator
Hello everyone,
We are so excited to support and rally around all women and men who are the caregivers and romantic partners. We are wanting to get a little big of a poll going around how many of you feel that you have adequate support within your community to balance being a caregiver with being  a lover to your partner. 
Leave us a blurb bellow with:
A) Do you feel that you have adequate support?
Would you like to see more support?
C) What are of support do you feel you need in order to feel balanced? 
ie. Emotional, Physical, Financial.
Thank you!
Elena & Brooke
WAGS of SCI
Your WAGS of SCI
(Elena and Brooke)