Reeve en Español
Comunidad de información y apoyo para las personas que viven con parálisis y sus cuidadores en español.
COVID-19 Vaccine Survey
Please take this short survey about the COVID-19 vaccine and the paralysis community, which will help us advocate and educate others about the vaccine. This is a voluntary
survey
.
Are vacations relaxing for you/ your partner?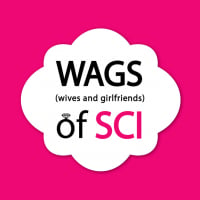 WAGSofSCI
Moderator
Posts: 379
Moderator
Firstly, Happy Canadian Thanksgiving ya'll!
This weekend my boyfriend, Dan, and I spent the weekend at his parents out in the country. This is a place we really like going to because it feels like a holiday property and we have a decent system down pat. Dan is a C6, and the only travel equipment we bring with us is a travel commode and a sliding board. Our travel shower/ toilet commode comes apart into seven small pieces and is VERY light and reversible; meaning it can swap from left to right, depending on which side the bathtub is on. Dan can fit through all of the doorways, uses an outside electric lift to get into the home and can fit comfortably under the dinning room table. As many of you know these are all deal makers or breakers. 
That all being said, one thing I often notice when we go away or stay anywhere other than our own home, is that it doesn't always feel like a vacation. Why? Because at home Dan is much more independent with things like his remote control bed, the bed is the right height to transfer, he has a routine that he feels comfortable with and of course it is predictable. When we are away, even with family in the same home, he tends to ask me to get things or do things for him. Why? Because he knows that he can rely on me to do certain tasks the way he excepts. For example, I know how to hold him up, while pushing against his chair and sliding him across on the sliding board. These are things he is not comfortable asking his dad or brothers to help with, and I totally understand. But, there are also tasks that other's can help him with such as making a sandwich or passing him his fork etc. that I find myself still hoping up to do. This has been an interesting conversation that has come up for us as we are now almost four years post injury. 
Last night, I was given the opportunity to sleep in my own bed, in a separate bedroom and a separate floor from where Dan was sleeping. I jumped on it. We have been experiencing sleepless nights for Dan this past month, which means sleepless nights for me as well. This morning I woke up to his mom calling me to come down because Dan had requested I start doing his morning routine in order for him to start studying for school. Again, no problem at all and I was so thankful for a solid nights sleep that I was feeling back to normal again. But, as we sat down for breakfast it dawned on me that being a partner and caregiver can feel a little bit overwhelming someday's. I love my partner with my whole heart and cannot see my life without him but I had an honest conversation with him and myself that I tend to put my own needs second to his and by the time I have time to care for my own needs...I'm tired. Almost four years have passed and I am still not comfortable saying things like, "hang on a minute" without feeling guilty, especially while we are on holidays. Ever hear the phrase, "I need a vacation from my vacation?" How do we manage stressors on vacations? Do you have any tips or tricks that you have found helpful? Would love to hear them all.
Thanks so much for reading,
Elena
WAGS of SCI
Your WAGS of SCI
(Elena and Brooke)
Comments