Reeve en Español
Comunidad de información y apoyo para las personas que viven con parálisis y sus cuidadores en español.
*Post Your WAGS of SCI Love Story HERE!*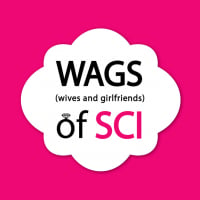 WAGSofSCI
Moderator
Posts: 379
Moderator
This page is where WAGS of SCI (Wives And Girlfriends of Spinal Cord Injuries) and their partners can post their LOVE STORIES!
If you follow our
@wagsofsci
page on Instagram and Facebook, we post many couples' stories from women all over the world who support their men with spinal cord injuries. This discussion page is where you can post your own love stories yourself! This is a place where we want to inspire other women who are caregivers as well as lovers with stories of love that breaks boundaries and barriers; where WAGS of SCI can read stories of hope and love through adversity, and find others in similar situations as them. We also want to inspire men who have spinal cord injuries and show the world that
love is love
, regardless of physical limitations. We also want to encourage the injured partners of WAGS of SCI to post love stories and messages to their WAG from their own point of view. This is a positivity only space!!
Some ideas on what to post in your story:
- how and where you met
- what injury level your partner has
- what you have learned along this journey
- things that make your relationship special
- any advice you have for other WAGS of SCI
- photos of the two of you!
We cant wait to read all your amazing love stories!
- WAGS of SCI (Elena and Brooke)
Your WAGS of SCI
(Elena and Brooke)
Comments