Reeve en Español
Comunidad de información y apoyo para las personas que viven con parálisis y sus cuidadores en español.
A SEX life after SCI? You know everyone is wondering about it when they see you two together....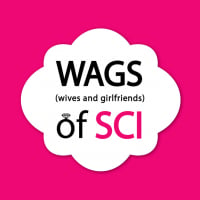 WAGSofSCI
Moderator
Posts: 379
Moderator
Hey All!
We want to start this topic off with a BANG. "She bangs, she bangs"...trickling off into a Ricky Martin song in our minds (or out loud). No, but really. Let's talk about S.E.X baby. We know that when both of us go out with our partners, we see the looks.. we know what people are thinking.. do they have sex? How? Would they ask us this? Hell no (actually we have been asked but not often).. but it's time for us to clear up some misconceptions about Sex and Spinal Cord Injury
If you watched our first Youtube Video (low budget in Elena's car) last year - you know what we are talking about. The misconceptions around sex and SCI are huge, even in our own community. Everyone wonders HOW (I know we did when our partners first were injured), when, and why... and some are confused for years on how to approach the subject with their partners. When do we start trying to "do it".. how?? What devices have to be used? Can he ejaculate? All of these things are so new and so real to most of us. When people ask us if we "still have sex" in the community... we always say "Yes, No, Sort of, Haven't Gone There Yet" as a generic response because every couple is SO different. All we know is its a complex spider web of mixed emotions that tends to be shoved under the rug, especially if you don't have resources at your fingertips. 
So, I guess our question for all of you WAGS of SCI out there is (from YOUR perspectives)... 
Where do you begin?
What does this look like for you?
How do you approach getting back to a "normal" (Whatever that is) sex life after an SCI?
Or - for couples who got together AFTER an SCI - what does intimacy look like for you?
Lets start the discussion!
If you want to take a look at our video we made after Interviewing a Sexual Health Clinician at the ICORD facility in Vancouver (this is the infamous sex video in Elena's car lol) check it out here:
https://www.youtube.com/watch?v=ou6kjt8DsKY&t=42s
Your WAGS of SCI
(Elena and Brooke)