Reeve en Español
Comunidad de información y apoyo para las personas que viven con parálisis y sus cuidadores en español.
The Necessary Stages Of Grieving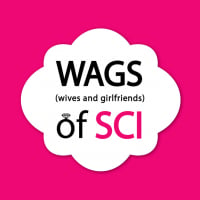 WAGSofSCI
Moderator
Posts: 379
Moderator
Have you ever heard of the "stages of grief" by psychiatrists Kubler and Ross? If you haven't - read on, because most likely you and/or your partner will have gone through some or all of these phases at some point in your journey with SCI. 
Most people associate grief with the loss of someone you love (death), but grieving also happens in our community when someone sustains a spinal cord injury. Grief is an emotional process that happens when you deeply mourn something that you have lost forever. When a spinal cord injury happens to you, it could take you months or years to go through the stages of grief to get to a place of acceptance of your new life and body. For WAGS of SCI, the grieving process not only happens to the one person we love more than anything (our injured partner), but it also happens to us. We mourn different things, in different ways. And BOTH are valid. 
We get messages all the time from women who are struggling to help their partner through a phase of healing, OR, are just acknowledging that they themselves are going through a phase of grief. Sometimes, as a wife or girlfriend of someone who suffers an SCI, we solely are there for them while they go through grieving the loss of their previous life as they knew it. It's easy to get wrapped up in being a concrete support system for them, but what about YOUR grieving stages? We have noticed that sometimes the grieving process for us comes much later down the road, and we do not tend to acknowledge our emotional healing like we do our partners'. We do not place as much importance on it because we are busy caregiving.  
Here are the 5 stages of grief as defined by Ross and Kubler:
1. Denial - "this isn't really happening"
2. Anger - "how could this happen to me?"
3. Bargaining - "maybe something can be done to remedy this"
4. Depression - "I am so sad, why bother with anything in life"
5. Acceptance - "it's going to be ok. I cant fight this anymore so I may as well find ways to live with it"
You may not go through all phases, and any phase is different for each person depending on what stage they are in in processing trauma. The phases of grief look different for everyone, but these processes are important to acknowledge nonetheless. I love this model because when my partner was going through his injury and processing the feelings he was getting, it gave me comfort knowing that I am not alone in my feelings.. and "this too shall pass." Not only that, but when we visited a counsellor early on in our journey with this injury, she told us that each phase is essential to go through in order for TRUE healing to happen. After speaking with her I realized that it is not my job to help assist my partner to heal faster, or cover it up, or make it easier for him - its up to him to go through these phases himself in order for a full circle of healing to happen and to move forward in life. If I helped him to avoid these phases, it would just take him longer to heal. 
When I read about these phases, I found that I had something to look forward to. I knew that however angry my partner was, however sad, however depressed - all I could do was support him in his healing journey and not take things personally if he took out his sadness on me. The more understanding you can provide, the easier it will be to grow, move forward and heal together. The more you acknowledge your own feelings, the more you embrace the process as "normal" and "essential", the more you can come to terms with your own journey. The more you realize you are NOT alone in grief, and that you can truly heal from the inside out, the easier each day becomes. 
This is my personal experience. 
What is your experience dealing with grief? How do you/did you handle each phase? If you feel like you are still in a certain phase of grief, which one are you in?
Thank you for your thoughts in advance. I know they will help a lot of people.  
- Brooke (WAGS of SCI)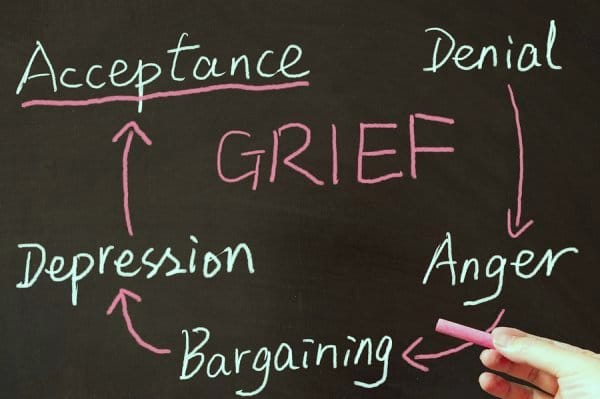 Your WAGS of SCI
(Elena and Brooke)
Comments